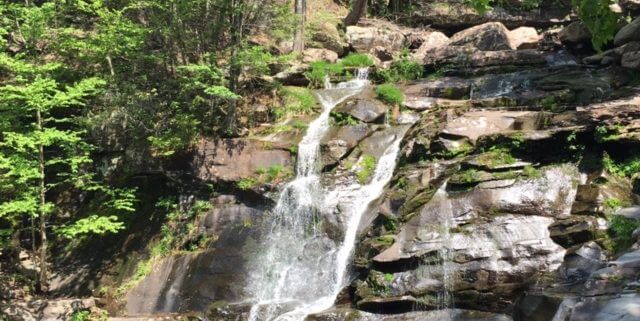 Resolutions, Dreams or Goals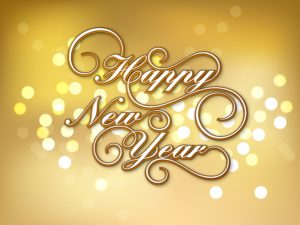 I wonder if you're like me or should I say like I used to be up to this year.  Maybe you set up resolutions and didn't achieve them or gave up a month or two into the new year.  I'm waving both hands here because that's what I would do too.  My excuses would be I'll start again when I have more time, it's just too much for me I can't do it.  I had all the excuses in the book or I'd just quit because I lost interest.
When I'd make my "resolution" for the new year I would make them as mental notes.  I think that was mistake number 1!  Then I would get easily distracted and it was easy to lose track of it in my head.  Also, everyday life could delay and distract me from what I had resolved to do.
As 2016 was coming to an end, I decided I'm not going to make resolutions anymore especially as a "mental note." I took time to really sit down and think about my dreams (not when asleep) and how could they become realities.  This year I'm setting down in writing my GOALS!  I think by writing them down and putting them in plain sight and purposeful places, I believe reaching these goals will not only be achievable they will be accomplished.
ENCOURAGEMENT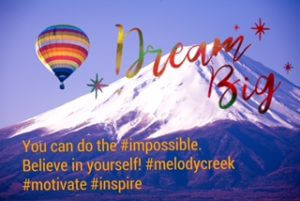 Do you start every year with resolutions or ideas of things you want to accomplish during the course of the year?  I would really love to hear if you are like me and have missed the mark or you complete all your resolutions.
In December, I decided that I want things to be different in my life.  I feel I'm fairly organized, optimistic and capable of doing anything I set my mind to.  The fact of the matter is my life is so "busy"(just like everyone else) that there's too much on my mind that I can't remember what I'm supposed to do.
If you want things to change then you have to be willing to do something different.  I've decided 2017 is my year!  This year I want to DREAM BIG, set and achieve goals to make those dreams come true.  I wrote down personal and business goals and I'm going to break them down into 90 day tasks to make them happen.  Yes, I know it sounds doable but my dreams are huge and pretty much scary.  At this point the scarier the better because on December 31, 2017 I want to have quite a few goals surpassed not just reached.
I feel more confident that this is my time to make the change and not fall into the traps of my past.  I've shut the door and I'm not looking back.  I want to encourage you to GO FOR IT!  Write down your dreams, make sure they're a little scary and break down the steps you need to take to achieve it within 90 days.  Then go for the next one.  By the end of the year you will have accomplished at the very least 4 things that you wanted to see achieved.  I dont' know about you but that's EXCITING!
POSITIVE QUOTE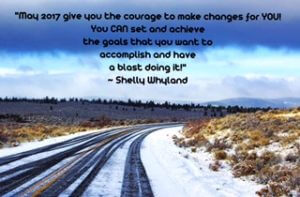 10 Things to ENCOURAGE YOU (YES, YOU!)
Let go of what you cannot change.
Only you can make you HAPPY!
Breathe in strength and release your fears.
If you believe you can, then you will.
Choose to be UNSTOPPABLE!
SHINE today.
I love how persistant YOU are.
You ARE good enough.
Take a minute to stop and look around you, YOU can make a difference.
Your life is meant to be LIVED!
LOVE
I want you to know that it's out of love that I spend time encouraging and building up others.  I want to help with the things that I'm going through and what I've broken through.  I've really struggled with resolutions in the past and I've felt less of myself because I didn't finish.  There is hope for us all!
I know goal-setting can be a really scary step to take.  I kept asking myself will I fail?  Possibly, but at least I'm going to go for it. Bottom line is these are your dreams that you want to see happen!  What are you willing to do for it to come true?  Step by step goals that are broken down into smaller steps will help you to see that you are taking ground and moving forward.  This will make you more confident as you mark off each step. Yes, you might not reach your goals within 90 days, so WHAT?! Keep going, don't give up just break your steps to smaller tasks until you reach them.
I'm so excited to see what 2017 will bring!  Just writing this blog is one step to mark off my list, then posting it will be another.  If you've ever seen the movie "What About Bob" then what we're doing is taking "baby steps" and with each step we take we will move forward.  Every step that is marked off will bring hope and fill us with a sense of accomplishment.  I believe it is true so I will keep going from step to step until my dream is REAL.
Ralph Waldo Emerson has some really amazing quotes but there are two that are driving my greatness forward right now.
"Nothing great was ever achieved without enthusiasm"
"Always do what you are afraid to do"
There are so many of his quotes that I could choose but these are the two that I am putting everywhere in my office here and at work.  On my bathroom mirror and in my car.  I am also putting my dreams/goals list in all of these places so I can mark off when I complete each task.
I hope you find this blog post helpful and useful.  I really would like to hear how you set up your resolutions, dreams or goals for this year.  Even though they might be scary that's good according to the amazing Ralph Waldo Emerson.  Happy New Year!
I'm Shelly and I love helping those I come in contact with.  Please leave comments and share this post with those that you know and might find it helpful.  I really appreciate feedback.  Have an INCREDIBLE day and may the New Year bring you new beginnings that EXCITE you.
https://melodycreek.com/wp-content/uploads/2017/01/IMG_2759-e1483395083317.jpg
396
400
Shelly Whyland
https://melodycreek.com/wp-content/uploads/2016/02/melcreek_side-white-300x123.png
Shelly Whyland
2017-01-02 18:44:49
2017-01-02 18:44:49
Hello Monday's ~ Resolutions, Dreams or Goals