So, it's time to order wedding invitations. Your wedding is anywhere from 6-12 months away. You're asking yourself where do I begin? No worries you've got this!
The first crucial step is putting together your guest list. This is probably the hardest part of planning your wedding. It can be a stressful time but the following list can help with who to invite.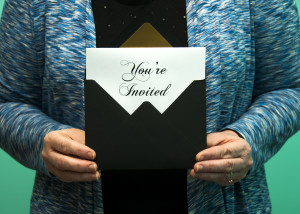 Family – decide how deep you want to go – – if you're not close with your 3rd cousin on Mom's side don't invite them.
Parent's and In-law's friends – give each set of parents a specific number they can invite. Now remember in traditional weddings the bride's parents may be paying for most of the wedding so be mindful that this means a lot to them and they may want a few more guests.
Your friends – this number includes your wedding party, the bride's friends, the groom's friends and the friends you share.
Plus ones – this can be a touchy subject. Make sure you know the names of significant others. You can decide who that will be. Maybe you want to invite only married and engaged couples. Just because someone who is single is invited to your wedding does NOT mean they can bring a plus one. It's your wedding you want the people there that matter to YOU!
One great way to know how many guests you have invited and keep track of your list is by using an Excel spreadsheet. This makes keeping track of rsvp's when they come in a breeze. You can then have a column set up for gifts, table seating, address labels and even your bridal shower invites could be generated from this program.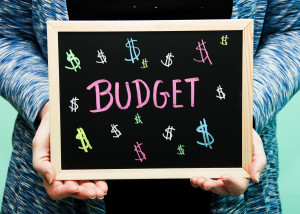 The second crucial step is budget. The average wedding budget for wedding invitations and stationery is between 5-10% of the total wedding budget. So let's say your wedding budget is $15,000 then the maximum your wedding stationery budget would be $750-$1,500.
Wedding stationery can include but is not limited to: save the dates, invitations, rsvps, insert cards, programs, menus, place cards, table numbers, wedding favors and thank you cards.
The final crucial step is choosing your invitation expert. Maybe you met some wedding stationery vendors if you went to your local Bridal Show. There are a wide variety of invitation vendors to choose from. Locally in your area, on the internet, Etsy, Pinterest or DIY kits from your local craft store. This can be overwhelming when you are trying to choose the right invitation for your BIG day!
Do you have a theme or specific colors in mind? Do you want plain, simple, elegant, extravagant bling invitations? All of this matters and reflects who you are. This information is important so bring your ideas when you meet with the expert(s).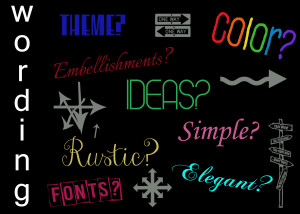 If you've got your guest list nailed down, then that makes this final step so much easier. This way you will know how much wedding stationery you will need to order. Also, if you decide to have your envelopes addressed by the invitation expert that Excel spreadsheet comes in handy!
Yes, planning a wedding can be stressful. Take time to breathe and remember this is the greatest time of your life and it will all be worth it in the end. Hopefully by following these three crucial steps they will help you when ordering your wedding invitations.
We at Melody Creek invitations offer many of these services in the Central New York region but can offer our expertise long distance as well. We love to FaceTime! Please feel free to contact us today for your free consultation.
We look forward to hearing from you. Have an amazing day!
https://melodycreek.com/wp-content/uploads/2016/02/Blog-image-4-1.jpg
2000
3409
Shelly Whyland
https://melodycreek.com/wp-content/uploads/2016/02/melcreek_side-white-300x123.png
Shelly Whyland
2016-02-19 18:56:26
2016-02-28 10:09:33
3 Crucial Steps You Have to Take Before Ordering Wedding Invitations