You(the future Mr. and Mrs.) just sat down with your future in-laws and without too much blood, sweat and tears — you have agreed upon the "magic" number that will be your wedding budget.  Well done, GREAT JOB!  Now, the real FUN begins.
The average cost for a wedding in Syracuse and the Central New York region in 2015 ranged from $16,825 to $31,213.  I took these two numbers and averaged them and came up with $24,019.  We'll use $24,000 for our "magic" number.
I don't know about you, but whenever "money talks" take place I just want to disappear.  Most money discussions lead to great amounts of stress, arguments and fights.  All things most people want to AVOID.  What I've discovered is that having a plan makes these talks go much smoother.  A realistic idea of what weddings actually cost can help with this plan.
The Wedding Budget
Below is a table of a wedding budget breakdown with our $24,000.  Now remember, this is just an average breakdown.
 

Wedding Budget Breakdown

$24,000*

 

Category

Percentage

Cost

Reception

45%

$10,800

Photography/Videographer

12%

$2,880

Flowers

10%

$2,400

DJ/Band

8%

$1,920

Attire/Hair/Makeup

12%

$2,800

Ceremony/Officiant

2%

$560

Stationery

5%

$1200

Transportation

2%

$480

Gifts

2%

$480

Wedding Rings

2%

$480

Total

100%

$24,000
If you wanted to add a Wedding Planner, the low end would be 16% of your budget or $3840 for the full service.  You can always choose to go ala carte.  That way you decide on the specific services you might want or need.  By adding this service you would bring your total budget to $27,840.  Yes, you are now over budget, but by having a wedding planner a lot of the stress comes off of you.
When you have a plan it can keep your budget on track and minimize unwanted stress.  There are lots of ways you can cut costs and still have the wedding of your dreams.  You might be a DIY bride who is crafty and can make a lot of items you want yourself.  Or maybe you are a thrifty shopper and can find your attire for a steal.
By having the numbers, you have an idea of where the money should go. That way if you pay less for certain things you can put that money where you want something else. You can do this with each category.
Let's be realistic for a moment. If your Mom and Dad are paying for this shindig and you keep going over the agreed upon "magic number," another talk could be in your very near future. "Money talks" can be very stressful but when you have a plan, and better still can stick close to that plan, the stress pretty much melts away!
Save, Save, Save!!!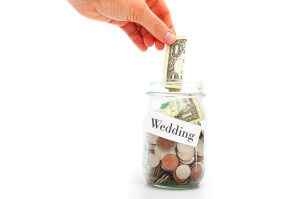 If you are employed when you get engaged, you should start saving money towards your wedding. By having that money set aside you could have some of those extras that are over budget that you don't want to live without! Your parents would appreciate you taking ownership of some of the expenses. They may not take the money, but it will show that you appreciate them.
Here at Melody Creek we want to help you with your wedding needs.  We specialize in wedding stationery, but our heart is to help ease your wedding plans so your wedding day is everything you want it to be. Contact us today for a free consultation for wedding stationery.

The following resources for my statistics in the table above:
www.theknot.com
www.marthastewartweddings.com
www.costofweddings.com
www.blogbrides.com
Did you find this post helpful?  Leave a comment.  Tell us what you think.
https://melodycreek.com/wp-content/uploads/2014/05/AdobeStock_46894136.jpeg
2594
3898
Shelly Whyland
https://melodycreek.com/wp-content/uploads/2016/02/melcreek_side-white-300x123.png
Shelly Whyland
2016-03-11 18:55:31
2016-04-04 14:49:30
When Talking About Your Wedding Budget Sends You Running for Cover