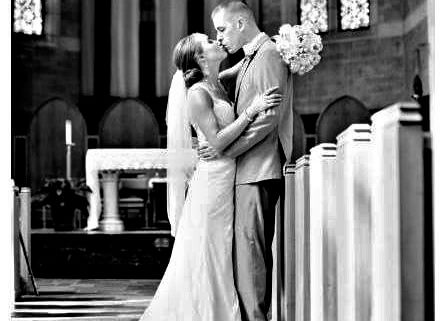 This summer we had the honor and pleasure of attending the wedding of Anne Marie Didio to her one and only, Ian Hennessey. What made it magical for us?  We have known Annie since she was a little girl.
Annie and Nikki our oldest daughter have been childhood friends for over 20 years.  Nikki is the graphic designer for Melody Creek.  Nikki and Annie met in dance class all those years ago.
Both of our families have spent countless quality time together over the years.  Nikki, Annie and their younger sisters, Emily and Mollie have grown into beautiful women since we met. Being a part of their lives has to be a highlight of my life.
On December 26, 2010 Nikki married her high school sweetheart, Marquis.  Annie was  in the wedding party. Nikki was with Annie as she married her sweetheart, Ian.
This precious couple came to the Melody Creek studio in February as our first clients.  Having our first clients be Annie and her future husband Ian, is something we will always remember!  They were ready and prepared to design their invitation suite.  "Simply Elegant" are the words to describe what we created together.  To me that also describes Annie.
To collaborate with them on their wedding stationery was special and sentimental for us.  For Nikki to have part in designing one of her best friends wedding suite meant a lot to her as well.
After delivering their invitations and as the time got closer to the wedding, Annie and Ian wanted matching items for their wedding day and to send out afterwards. We used their theme to design programs, wedding itenarary, place cards and thank you notes.  Annie and Ian loved them all and for us that's all that matters!
The day of the wedding arrived to say I was excited is an understatement.  Annie and Mollie have always been very special to me.  This family has been an extention of our family for a very long time.  The weather was perfect and I couldn't wait to be apart of this awesome day!
As Chris, Annie's Dad walked her down the aisle I got choked up.  A flood of memories came back to me of this incredible beautiful young woman.  Sleepovers, dance rehearsals, dance recitals so many amazing moments of this soon to be bride.  Then I turned to see Ian standing, waiting for her, the look of pure love and JOY on his face was priceless.
The reception was gorgeous.  They chose for their venue the Ballroom at the OnCenter.  The way they displayed the place cards under a sculpture was breathtaking.  The whole day was so much fun!  Another memory to cherish about my dear Annie.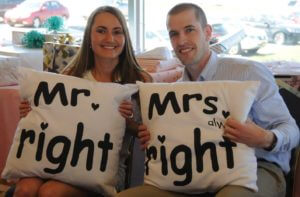 For Annie and Ian we wish you all the best. We can't wait for what's to come for you in the future.  Ian welcome to the family!
I love creating wedding stationery and suites that represent everything that amazing couples want for their wedding day!  Contact us today to set up your free consultation in a fun, relaxing, no-stress zone.  We look forward to collaborating with you.  Have an AWESOME day!  All my best,  Shelly
Photo's courtesy of Facebook public photos amd Nicole Marie Photography.
https://melodycreek.com/wp-content/uploads/2017/01/Ian-and-Annie-e1483711700417.jpg
300
300
Shelly Whyland
https://melodycreek.com/wp-content/uploads/2016/02/melcreek_side-white-300x123.png
Shelly Whyland
2017-01-06 09:57:12
2017-01-06 09:57:12
Real Wedding: Annie and Ian: July 25, 2016